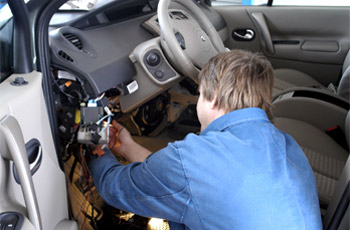 InstallerNet makes great installers even better with preparation, training, and providing both vehicle and product-specific information in advance of each installation. InstallerNet's clients expect the highest level of technical support for installers and customers before, during and after installations. Staff installers and trainers meet these expectations with web-based training and support tools, on-site training, and unparalleled experience installing mobile electronics.
InstallerNet maintains a detailed database of technical information about all vehicles and products for which managed installation services are provided, including all passenger vehicles, school bus fleets and many other types of vehicles. This content of technical information, combined with years of experience installing becomes the foundation for InstallerNet University's classroom and web-based training. Using the latest multimedia technologies to turn content into useful reference information for professional installers is one of the core competencies that powers InstallerNet University.
InstallerNet University rates InstallerNet members using an online survey process where InstallCard customers are given a chance to rate their experience with the InstallCard sale, scheduling, installation, and even the product. InstallerNet members know that if they want more business, they must receive continuous and positive survey feedback from their customers. InstallerNet University staff seek to train, manage and maintain the highest quality and most comprehensive network of installers found in the US.
How Do I Get Accepted?
There are several accreditations and advancement levels, including various curriculums and certifications that any authorized InstallerNet member can achieve (similar to your traditional college). Initially, to become an undergraduate member (the first of several levels in the educational ladder) of InstallerNet University, you simply need to meet and accept all the InstallerNet Requirements to become an InstallerNet Installer. Click here to view InstallerNet Requirements. Form there, you will receive certification material that can be proudly displayed in your business, for all to see. As you move forward, higher levels in advancement and competencies can be achieved and additional certificates will be issued. This advancement is not only well recognized by your employees and customers, but will be raised and seen at a higher level through education form InstallerNet; hence (greater opportunities and will come easier). Keep in mind, that your InstallerNet customers also play a role in your standings, from the surveys they submit soon after an install. Remember to always present and deliver the highest of quality with each install, and remind all your customers to respond favorably from the fruits of your labor!